Joseph
Cancer:Stage IV Lung Cancer Metastasized to Spine and Brain
Treatment:Cyberknife
"I did the research to understand how the technology works. Being an engineer myself, I was very impressed with its capabilities."
"I did the research to understand how the technology works. Being an engineer myself, I was very impressed with its capabilities."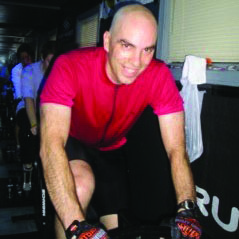 ---
I feel I am getting the best care (doctor/technology) that I can get here in Phoenix. Since my case is so difficult, I do have a team of doctors taking care of me both at Memorial Sloan Kettering and Phoenix Cyberknife and Radiation Oncology Center, (PCROC). In May of 2005 I went from a diagnosis of having 3-4 months to live, to having the best years of my life for the past 7 years. I speak to a lot of cancer patients and express how important it is to take control of your health situation. Everyone is different, but get the best care you can for yourself and select the right doctors/facilities that will do the best for you. Do not settle for what is convenient for you. As in my case, it can be a life or death situation. You owe it to yourself and your family to search for the best care. That's the best you can do. Bottom line….I would, without a doubt recommend Dr. Kresl and PCROC assuming your specific case needed that type of care.
Prior to my illness, I was very active with my family, career, and health activities. On the career aspect, I was a Global Engineering IT Manager. I worked for GM/ Delphi for 29 years. It was a fantastic job which I truly appreciated. I have been to many countries around the world and experienced different cultures/people, great experience. I also had the opportunity to take my family on an international assignment for 3 years. Best thing we ever did as a family. On the health activities, I played a variety of sports (up to the time of my illness); basketball, baseball, biking, as well as regular workouts and the gym, spinning, weight lifting, etc. In fact 2 weeks before my diagnoses I did a 4 hour straight spinning class to raise money for the Lance Armstrong Cancer Foundation…before I knew I was sick. Funny thing, most all the guys (including me) shaved their heads in support of cancer patients. Little did I know a few weeks later it would have happened anyway.
While playing basketball, a good friend of mine (who was a doctor) noticed I was coughing quite a bit over the last couple weeks. He asked me to come to the hospital for a chest x-ray along with a checkup. Nothing showed up. So a couple weeks later he asked me to get a CT scan. That's when we found the lung tumor. Having lung cancer was very strange since I never smoked a cigarette in my life. It was then that I realized you do not have to be a smoker to get lung cancer.
After they saw the lung tumor in the CT, they did more tests. Bone scan, PET scan, etc.. What they found shocked everyone, including me.
Diagnosed with Stage IV Lung Cancer – adenocarcinoma (non-smoker):
Primary tumor in left lower lung with metastasis/tumors in spine (T3, T5, T8 & T10 & L3 vertebrae) and 2 lesions in left hilum (chest). Over time, I had recurrences in spine and 4 new tumors in brain. Later, tests found 3 new tumors in the brain. Most recently, a tumor found and treated by PCROC in December of 2011. Current treatment includes blood work & chemo (4-week intervals) and daily oral medications.
I knew this was extremely bad, Stage IV Lung Cancer. I knew I had to search for the best care. So I went from my small local hospital to the Cleveland Clinic since I was living in OH at that time. They are very well known as one of the best hospitals in the country. I know now that are rated #1 in the US for heart, not cancer. After seeing my imaging results, they told me the best thing to do is take a two week vacation with the family and to get my finances in order. Crushing news. But I am a competitor, so I could not just give up. I started researching on my own but this time looking for the best cancer hospitals in the country. Turns out M.D. Anderson and Memorial Sloan Kettering (MSK) are number 1 & 2 consistently in the US. So I decided to go to MSK in New York City since logistically made more sense. It was the right choice.
I heard about PCROC from my trusted Dr. Kresl who suggested Cyberknife VSI, the most advanced Cyberknife available on the market and in Arizona. Dr Kresl made me feel great. I cannot say enough good things about him.
I did the research to understand how the technology works. Being an engineer myself, I was very impressed with its capabilities.
I have had other experiences in OH and in Phoenix. I would rate PCROC as the best I have had. Not that the others were that bad, it was just PCROC was the best.
All the staff I have met at PCROC has been both caring and professional, PCROC is EXCELLENT! Patients going through these very difficult times really do appreciate a caring/friendly atmosphere….but at the same time PCROC also demonstrates professionalism and confidence in what they do.
Follow-up care was excellent. They made sure what the next step was and scheduled what was needed.