Terry
Cancer:Prostate Cancer
Treatment:Truebeam STx
"The Staff of Phoenix Cyberknife is The BEST of the BEST!"
"The Staff of Phoenix Cyberknife is The BEST of the BEST!"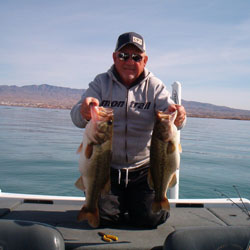 ---
The Staff of Phoenix Cyberknife is The BEST of the BEST…you couldn't find any better, from the greeting of the Receptionist at the front office, the Patient Care Coordinator, Nursing, Radiation therapists, all the way through the staff to the treatment room, you are treated like you're the only person being cared for…the BEST.
I am extremely active. I work on a golf course during the summer months where playing golf is required along with my working duties. During the winter months I fish at least four days a week in the mornings and work in my yard and garden the remaining hours.
I went to my annual check-up and found that I had an elevated PSA. My follow-up biopsy showed I had prostate cancer.
After the biopsy I chose to have Cryo-Surgery (freezing procedure) rather than the full surgery–it worked for a year. Then the PSA showed a steady increase, meaning the Cryo didn't get all the cancer. My Urologist recommended the radiation treatment done by the Phoenix Cyberknife and Radiation Oncology Center (PCROC) and referred me to Dr John Kresl. I didn't know what to expect until Dr. Kresl thoroughly explained the HOW, WHAT AND WHY after a thorough exam. Dr. Kresl made me feel as comfortable as possible considering the problem and suggested Truebeam STx Radiation Treatment.
The process was a PIECE OF CAKE; you actually wonder if this is for real. The staff explained everything. I had 37 treatments. Each individual treatment was quick, they took about 10 minutes once they got you set-up.
The follow-up care, one office visit and a couple of phone calls, has been like the rest of PCROC's operation–PROFESSIONAL.
I feel fine, with my three-month PSA reading being an A+. I'm looking forward to getting my next test and the reading being the same + .
Telling someone about PCROC would be a no-brainer, especially when you've been granted longevity through a simple treatment; "go-for-it."
I can say this because I have had experiences at other offices that I would rather not comment on.
Terry's wife Barbara:
"As Terry's wife, I would like to say how grateful I am to have my husband in the hands of God's appointed physician. I have always felt comfortable and at peace with all of you. Even the other patients in the waiting room have contributed to a sense of well-being. Thank you, Barbara"